Browse Toyota C-HR Inventory in Salmon Arm, BC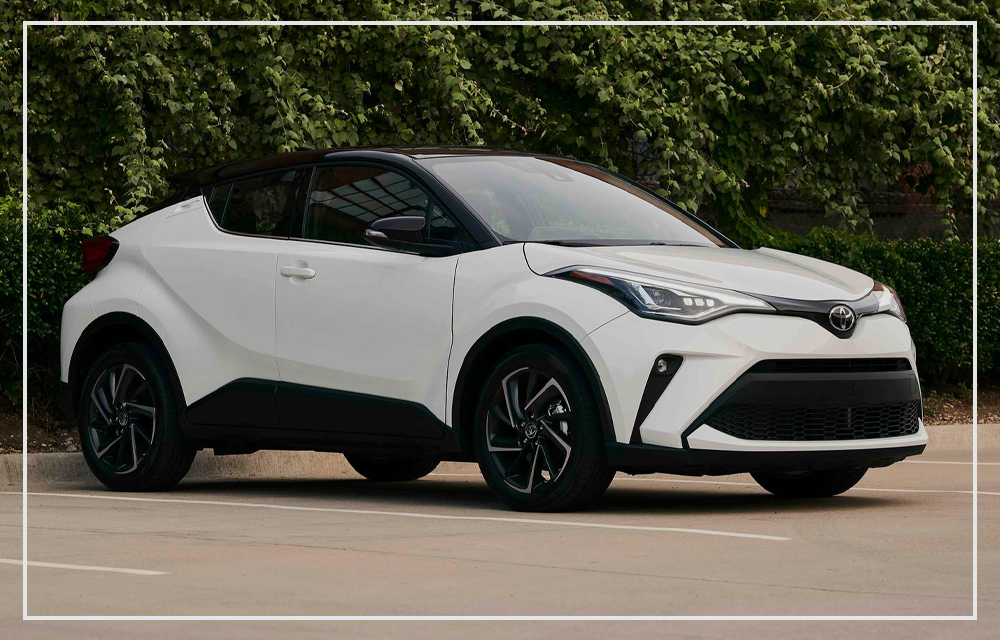 2022 Toyota C-HR in Salmon Arm, BC
The Toyota C-HR lineup first reached the streets in 2017, and the model has undergone a few improvements since. This vehicle is a superb option for those who'd like something smaller than an SUV and as sharp as a Corolla. Here's what you need to know about it before looking for the best deal on the 2022 Toyota C-HR in Salmon Arm, BC.
What's New
If you've already tried the 2017 or 2018 models, you won't see many different things here. Some tech, safety, and comfort options were upgraded, of course. Still, the lineup remains true to its first model. There were speculations that the entry-level trim, LE, would be discontinued. Yet, the trim is still there on the carmaker's website.
Performance and Driveability
The C-HR is a champion of fuel economy among its kind. It can make up to 13km/l, whereas most competitors can go any further than 11km. The four-cylinder engine, with a CVT transmission, can make the car go from zero to 100km/h in nearly 6 seconds.

It doesn't sound like much, but no one buys an SUV expecting a sports car performance, right? Anyway, the engine is pretty responsive in city conditions, with 144 hp and a torque capacity of 139 lb-ft.
Exterior/Interior Features
The C-HR is a small SUV or an extra-large sedan, as you wish. It has a pretty sophisticated design, with a sloping rooftop and some lines that make it look somehow like a coupe. The modern and asymmetrical lines of its design can also be found inside the cabin and on the dashboard. The steering wheel is covered in leather for extra comfort.

As for interior features, this version comes with an upgraded infotainment system and also a considerably bigger touchscreen display. The upholstery is made of black cloth, and the materials used are overall durable and of good quality. Legroom won't be a problem for anyone in the vehicle. It also has plenty of cargo space, especially after the rear seats are folded.
Technology & Safety Features
The C-HR is packed with handy driving assists and other safety features. The infotainment system was upgraded and compatible with Apple CarPlay, SiriusXM satellite radio, and Android Auto. All trims include blind-spot monitoring, proximity key, adaptive cruise control, forward collision warning, heated exterior mirrors, and more.
Trims and Prices
Three trims are available for the
2022 Toyota C-HR in Salmon Arm, BC:
Limited, Nightshade, and XLE Premium. The LE model was discontinued in this year's lineup. All trims come with five seats and four doors.
LE FWD: CAD 26,340
XLE Premium FWD: CAD 26,890
Limited: CAD 29,490